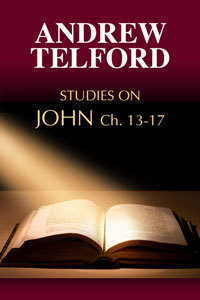 Andrew Telford Studies: John, Chapters 13 to 17
Highlights
Part of the Andrew Telford Studies Collection
Product Details
The teachings of the Lord Jesus are full of truth for the children of men. In particular, his expositions during the days and hours before He went to the cross, prepared His followers for life after His ascension.
In this book, Andrew Telford teaches on the ministry of the Spirit, who met all of the needs of the disciples and who served the disciples in the Lord's physical absence. These chapters, spoken under the "shadow of the cross," carry in them tremendous truths for the people of God.
About the Author
Dr. Andrew Telford (1895-1997) was a pastor, teacher, and writer of the Word of God. Many of his books were written at the request of believers who were encouraged by his preaching and desired to have his sermon points in written form.
Endorsements
Dr. Andrew Telford was a remarkable man of God. A review of his life and ministry will reveal his dedication to the Lord's call, his demonstration of the Lord's gifts, and his determination in the Lord's service. Students of the Bible will benefit from his practical application of the Scriptures. Bible teachers will recognize his ability to formulate his thoughts. Preachers of the Word will appreciate his skill to alliterate his points. I commend his writings for your prayerful consideration.