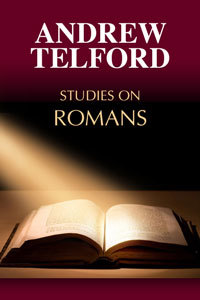 Andrew Telford Studies: Romans
Highlights
Part of the Andrew Telford Studies series
Product Details
Studies in Romans is a series of outlines on Paul's famous epistle. Beginning with a general overview of the entire book of Romans, Telford then breaks the book down into smaller sections following this format:
Text
Theme
Introduction
Outline
About the Author
Dr. Andrew Telford (1895-1997) was a pastor, teacher, and writer of the Word of God. Many of his books were written at the request of believers who were encouraged by his preaching and desired to have his sermon points in written form.
Endorsements
Dr. Andrew Telford was a remarkable man of God. A review of his life and ministry will reveal his dedication to the Lord's call, his demonstration of the Lord's gifts, and his determination in the Lord's service. Students of the Bible will benefit from his practical application of the Scriptures. Bible teachers will recognize his ability to formulate his thoughts. Preachers of the Word will appreciate his skill to alliterate his points. I commend his writings for your prayerful consideration.