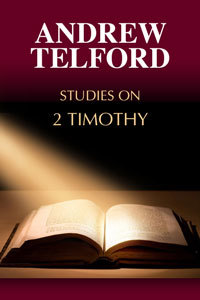 Andrew Telford Studies: Second Timothy
Highlights
Part of the Andrew Telford Studies series
Product Details
From the Introduction
In this book of Second Timothy there is set forth helpful truth to all who have a desire to know God's purpose in the hour in which we live. In writing this book my desire is to help the reader and student of this Epistle to understand better its much needed content. The nature of the material will also reveal how applicable its teaching is for the times in which we live. The times we live in are clearly set forth in the Epistle. How such times are to be confronted by the true servant of God are clearly unfolded by the Apostle Paul.
Second Timothy gives us a clear understanding as to how the errors of the "last day" are to be met.
This book is made up of a series of Bible studies which have been given in Bible conferences and Bible classes. They are clear expositions of this needful "last days" Epistle. I trust the content of it will provoke further study, and be of real help to Bible students and pastors in the understanding of II Timothy, and also enable them to be faithful ambassadors of the Gospel in this age of dark and damning apostasy.
About the Author
Dr. Andrew Telford (1895-1997) was a pastor, teacher, and writer of the Word of God. Many of his books were written at the request of believers who were encouraged by his preaching and desired to have his sermon points in written form.
Endorsements
Dr. Andrew Telford was a remarkable man of God. A review of his life and ministry will reveal his dedication to the Lord's call, his demonstration of the Lord's gifts, and his determination in the Lord's service. Students of the Bible will benefit from his practical application of the Scriptures. Bible teachers will recognize his ability to formulate his thoughts. Preachers of the Word will appreciate his skill to alliterate his points. I commend his writings for your prayerful consideration.