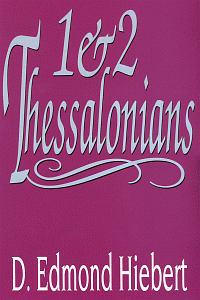 Hiebert's Commentary Series: 1 and 2 Thessalonians
Product Details
Huddled in a Roman city a a crossroads near the edge of the Empire, the Thessalonian church was buffeted by winds of persecution and ugly rumors about the apostle Paul and his teachings. Paul wrote his first letter to the Thessalonians to comfort and encourage them. He urged these new believers to watch for their Lord's return and so live a life of committed holiness.
Hiebert has significantly revised his original commentary on the Thessalonian epistles to reflect new advances in textual criticism and doctrinal insights in the past twenty years. He assumes Paul's concern for his own readers and makes his commentary practical for today's believers.
Hiebert maintains a tone of commentary with a pastoral insight for making Paul's love and concern for the church come alive. This epistle contains some of the most specific and important formation about the last days and how the church can be ready.
Hiebert's wide application of the original Greek and his confident use of other commentaries and studies make this book a handy tool for pastors and other church leaders. Yet his work is not so exhaustive that the layman cannot benefit greatly.
About the Author
D. Edmond Hiebert (B.A., John Fletcher College; Th.M., Southern Baptist Theological Seminary) was professor emeritus of New Testament at Mennonite Brethren Biblical Seminary in Fresno, California. He has written widely on the New Testament, and his works include Everyman Bible Commentaries on First and Second Timothy and Titus and Philemon. He and his wife, Ruth, have three children.
Endorsements
An outstanding exposition based upon unusually comprehensive and complete exegesis. A leader among commentaries for accuracy and reliability.