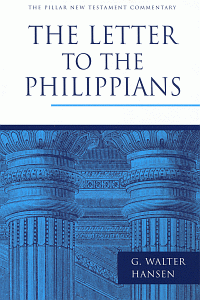 Pillar New Testament Commentary: The Letter to the Philippians
Highlights
Greek vocabulary and verb tenses are regularly discussed
Designed both for serious students and for general readers of the Bible
Commentaries are exegetical in nature, but with an intent to aid expositors
Product Details
In this commentary G. Walter Hansen offers rich exposition of the text of Philippians as well as wisdom and maturity in its application. In so doing he emphasizes partnership - the social and corporate dimensions of community - in the progress of the gospel.
After a select bibliography, Hansen's introduction sets forth the historical setting of the church in Phillipi, the nature and occasion of the letter, and a preview of two key themes - the gospel of Christ and the community in Christ. The commentary itself discuss Philippians in light of these themes, considering Paul's greeting, reports of gospel ministry, imperatives for citizens worthy of the gospels, recommendations of two Christ-like servants, and disclosures of his personal experience. Hansen's treatment as a whole is distinctive for the way it draws out and highlights the themes of partnership, citizenship and friendship in Paul's Philippian letter.
About the Series
The Pillar New Testament Commentary, designed for serious readers of the Bible, seeks above all to make clear the meaning of the text of Scripture as we have it. Writers of the PNTC volumes interact with the most important, informed contemporary debate yet avoid undue technical detail. Their ideal is a blend of rigorous exegesis and exposition, scholarship and pastoral sensitivity, with an eye alert both to biblical theology and to the contemporary relevance of the Bible.
While the New International Version is the translation of choice for the English text, Pillar authors base their exposition on the Greek New Testament. They are deeply committed to a fresh wrestling with the text, using every means at their disposal to "loosen the Bible from its pages" to help readers understand what the text says and how to apply it to life today.
Underlying the approach of this series is the fact that God stands over us rather than we in judgment of him. When God speaks to us in his Word, those who profess to know him must respond with reverence, a certain fear, a holy joy, and a questing obedience. These attitudes are reflected in the profoundly Christian stance of the PNTC authors toward the text. With these values in place, the Pillar commentaries will continue to be warmly welcomed by pastors, teachers, and students everywhere.
About the Author
G. Walter Hansen is Seminary Professor for Global Theological Education at Fuller Theological Seminary and president of Rivendell Stewards' Trust. His other books include Abraham in Galatians and the IVP New Testament Commentary volume on Galatians.
Endorsements
With themes and emotions so varied, the letter to the Philippians needs a commentator with a sure grasp and a warm heart... Hansen writes with admirable clarity and simplicity, even when he is unpacking notoriously complex matters.