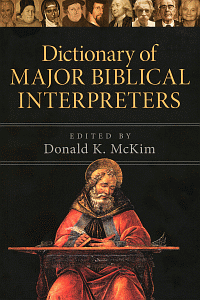 Dictionary of Major Biblical Interpreters
Highlights
Introduces the reader to the history of biblical interpretation through six
period-specific essays by leading scholars.
Offers over 200 in-depth articles describing the contributions of the most
significant Christian interpreters of the Bible.
Presents the interpretive principles and signal contributors of interpreters in
their historical and intellectual context.
Features a wealth of historical and bibliographical information concerning each
interpreter.
Provides an excellent resource for students and teachers of biblical studies,
church history and the history of biblical interpretation.
Product Details
From Abelard to Zwingli, the history of Christian biblical interpretation has been shaped by great thinkers who delved deeply into the structure and meaning of Christianity's sacred texts. With over two hundred in-depth articles, the Dictionary of Major Biblical Interpreters introduces readers to the principal players in that history: their historical and intellectual contexts, their primary works, their interpretive principles and their broader historical significance. In addition, six major essays offer an overview of the history of biblical interpretation from the second century to the present. This one-volume reference by Donald K. McKim, a revised and vastly expanded edition of InterVarsity Press's Historical Handbook of Major Biblical Interpreters, will serve as an invaluable tool for any serious student of the Bible and the history of biblical interpretation.
Contributors include
Darrell L. Bock
Francois Bovon
Gerald Bray
Pamela Bright
Colin Brown
Christoph Bultmann
Brian Daley
Dawn DeVries
James D. G. Dunn
G. R. Evans
Karlfried Froehlich
Deirdre Good
Donald A. Hagner
Frank A. James III
Charles Kannengeisser
Robert Kolb
Tremper Longman III
Peter Machinist
Ralph P. Martin
John A. McGuckin
Margaret M. Mitchell
Robert C. Morgan
Richard A. Muller
Mark A. Noll
Richard A. Norris
Thomas H. Olbricht
John D. Rempel
Lorna A. Shoemaker
Manlio Simonetti
Anthony Thiselton
Benedicta Ward
David F. Wright
About the Author
Donald K. McKim is executive editor for theology and reference at Westminster John Knox Press. He is the author and editor of a number of books including the Encyclopedia of the Reformed Faith, The Cambridge Companion to John Calvin, Calvin and the Bible and The Westminster Dictionary of Theological Terms.
Endorsements
An indispensable resource for all theological libraries.
This volume provides a thorough introduction to the major figures in the history of exegesis. It is a useful resource both as a work of reference and as a guide to further reading.
This is an instructive, thought-provoking, generous-minded, reliable, absorbing, illuminating and imaginative work, often elegant, entertaining, incisive and provocative. It covers a remarkable galaxy of names, and it is written by people from a wide range of backgrounds, many of them world experts on their subject. Why did no one think of writing it before?
I plan to make this volume a mainstay in my History of Interpretation course, where I previously assigned its predecessor, Historical Handbook of Major Biblical Interpreters. This new compendium has a larger number and wider range of articles. Older articles have been updated. In addition, Wirkungsgeschichte ("history of interpretation") is rapidly becoming more central to exegesis than it has been for generations. A biographical approach to the subject is effective for scholar and student alike, because it highlights the human and the historical, and that relates to our own existence and interests. I love this subject. Maybe that's why I love this book.
I am more than glad to commend this Handbook. Biblical interpretation becomes impoverished if the history of the reception of texts is ignored. This reference work provides easy access to material which is otherwise scattered and time-consuming to track down. With helpful bibliographies, it provides a valuable tool for students of the Bible and of hermeneutics.
Donald McKim has assembled a team of experts to write sympathetic yet critical descriptions and assessments of the major figures in biblical interpretation from the early church to the present day. Together with the survey articles on specific periods, this collection of articles on individual scholars offers an unrivaled overview of the history of biblical scholarship in all of its developments and vicissitudes. It is not only a valuable resource for the student; it is also intensely interesting.
An impressive stable of international scholars, under the direction of veteran editor Donald McKim, have contributed to making this revised and enlarged edition of the Historical Handbook of Major Biblical Interpreters more comprehensive and user-friendly than the first edition. The new DMBI... will prove to be a valuable resource for all theological disciplines and belongs on the shelf of every serious student of theology.
With its revisions and expansion, this useful handbook has now become a major, if not indispensable, resource for biblical interpretation... In a time when biblical scholarship is once again turning to history and theology, this dictionary will help us know where to go and what to look for.
Anyone interested in the history of interpretation- which today should include all of us- will profit from and appreciate this substantive volume, whose articles, unlike those in so many handbooks and dictionaries, are consistently of high quality. This revised edition, with its many new entries, is an advance beyond its excellent predecessor, and the generous and updated bibliographies will be of great assistance to those wishing to pursue further research.
This is far and away the finest introduction to the colorful characters that have determined how scholars and laypeople have read the Bible for the past two thousand years. Bravo, InterVarsity Press!
Ten years after the appearance of its well-received predecessor, the Dictionary of Major Biblical Interpreters joins the ranks of InterVarsity Press's flagship series of reference works. Here is an excellent selection of entries covering a greatly expanded sweep of influential commentators ancient and modern, Catholic and Protestant, 'conservative' and 'progressive,' often contextualized with illuminating biographical information. The well-documented, often substantive essays benefit from an impressive international team of authors, many of whom are themselves representative of the state of the art of contemporary biblical interpretation. Serious students of the story of biblical interpretation will do well to clear another four inches on their reference shelf for this latest InterVarsity Press dictionary.
This dictionary is an essential resource for the study of biblical interpretation throughout the ages. Written by world-class scholars, it is both trustworthy and accessible... In this present age of hermeneutical awareness, this is an indispensable volume, helping contemporary readers see the strengths and weaknesses of both past and present approaches to Scripture.
By providing a judicious selection of leading interpreters throughout the history of the church, the DMBI has made me realize anew how much we owe to our predecessors, while their faithfulness, often in the face of considerable adversity, is an inspiring example which will drive me back to the text of Scripture with renewed vigor and determination.