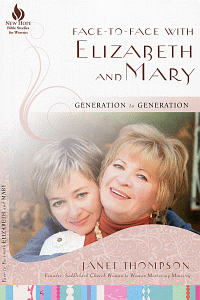 Face-to-Face with Elizabeth and Mary
Generation to Generation
Highlights
Easy-to-use, compact study
Five fast-paced sessions
Group questions and activities
Leader's guide included
Part of New Hope's Bible Studies for Women Collection
Product Details
Pass Down Wisdom and Spiritual Nourishment
Not every young woman has a loving, Christian mom. Many young women today find themselves spiritually alone as the only Christian in their family or circle of friends. Other times, our mobile society separates mothers and daughters by distance. Or women find themselves dealing with issues Mom can't always relate to, and these daughters need a Christian woman to share advice and give motherly guidance. Even Mary, the mother of Jesus, knew she needed to talk to another woman who could relate to and understand her situation- she needed a spiritual mother.
Face-to-Face with Elizabeth and Mary studies the reciprocal benefits and joys of one generation investing in the next. From the author's many years of experience in women's ministry, she shares personal stories that illustrate the principles studied. This study is ideal for individuals, pairs of women in mentoring relationships, or for small groups of women. A leader's guide is also included with questions and plans for each session's success.
About the Author
Janet Thompson, founder and director of About His Work Ministries, is an author and speaker on topics relevant to today's Christian. Janet discovered her purpose when God called her to "Feed my sheep." Janet answered that call by developing and founding the Woman to Woman Mentoring Ministry at Saddleback Church, where she and her husband, Dave, have been members since 1987. Janet served as a lay minister for 12 years, leading Saddleback's Woman to Woman Mentoring Ministry, and she continues to share the blessings of mentoring by training churches around the world.
Dave and Janet have four married children and love being Grammie and Grampa to ten beautiful grandchildren. They make their home in Lake Forest, California.
Endorsements
This Bible study series offers an excellent opportunity for spiritually mature women to come alongside younger or new Christian women who are willing to be taught and counseled. Together, they discover God's purpose and plan for their lives.
You will benefit whether studying on your own or in a small group because of the wide-ranging elements. It has personal stories, thought-provoking questions, intriguing ideas for mentoring, and practical challenges to grow closer to God. Janet Thompson's heart for encouraging women comes through loud and clear.
Janet Thompson has given us a clear road map to practical, biblically based mentoring in this series. God's scriptural ideals for mentoring are laid out clearly and concisely, with wisdom, wit, and vulnerability.