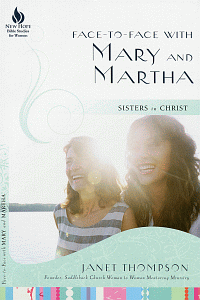 Face-to-Face with Mary and Martha
Sisters in Christ
Highlights
Easy-to-use, compact study
Five fast-paced sessions
Group questions and activities
Leader's guide included
Part of New Hope's Bible Studies for Women Collection
Product Details
Grow in Faith with Other Women
The Bible itself provides many examples of women growing in faith together. Through the story of Mary and Martha of Bethany, women will learn to embrace their diversity as sisters in Christ. God has blessed the body of Christ with a variety of spiritual gifts, personalities, and life experiences. By discovering and combining these, women can learn to complement one another in serving the church and reaching out in love to others. Together they will realize their potential for accomplishing the purposes that God has for them.
With relevance for life today, Face-to-Face with Mary and Martha guides women to apply biblical principles in their relationships as sisters in Christ. From the author's many years of experience in women's ministry, she shares personal stories that illustrate the principles studied. This Bible study is ideal for individuals, pairs of women in mentoring relationships, or for small groups of women. A leader's guide is also included.
About the Author
Janet Thompson, founder and director of About His Work Ministries, is an author and speaker on topics relevant to today's Christian. Janet discovered her purpose when God called her to &ldquoFeed my sheep." Janet answered that call by developing and founding the Woman to Woman Mentoring Ministry at Saddleback Church, where she and her husband, Dave, have been members since 1987. Janet served as a lay minister for 12 years, leading Saddleback's Woman to Woman Mentoring Ministry, and she continues to share the blessings of mentoring by training churches around the world.
Dave and Janet have four married children and love being Grammie and Grampa to ten beautiful grandchildren. They make their home in Lake Forest, California.