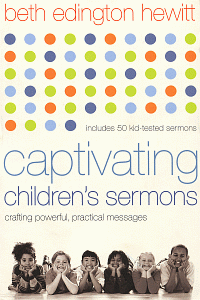 Captivating Children's Sermons
Crafting Powerful, Practical Messages
Product Details
Deliver dynamic children's sermons that capture the hearts and minds of kids...and adults.!
It's a challenge to prepare effective age-appropriate children's sermons for wiggly kids with short attention spans. But a simple, straightforward, biblically based children's message can have a huge impact on kids - and their parents.
Captivating Children's Sermons provides fifty kid-tested, ready-to-use messages to get you started. Beth Edington Hewitt demonstrates how these messages can be based on any story, concept, prop, event, or series. And you'll also find practical tools and suggestions to develop your own powerful children's sermons.
With a clever children's message, you can make God's Word relevant in the everyday lives of children, inspire parents with scriptural truths, and engage and encourage the entire congregation.
About the Author
Beth Edington Hewitt, a mother of two, has an M.A. in Christian education and specializes in children's ministry. She has served churches in Selma, Alabama, and Orlando, Florida, where she worked for six years leading a children's program of three hundred children.
Endorsements
This book is very motivational and instructive to the pastor, teacher, and parent. I want to share some of these lessons with my elementary age grandchildren.
If you capture the kids, you will capture the whole family. Beth Hewitt understands this and has provided a unique and powerful gift to the church. I have already put this book to work.
Children are a valuable part of the Sunday church service. Beth Hewitt's book helps church leaders incorporate children's sermon material in a way that is stimulating to the entire congregation.