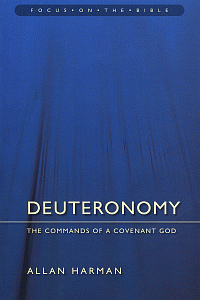 Focus on the Bible: Deuteronomy
The Commands of a Covenant God
Product Details
Deuteronomy is a misnomer, it means the second law. The name is taken from Deuteronomy 17:18 where the expression really means having a copy of the law. Deuteronomy is therefore not a second, different law but a renewal of the covenant made on Mount Sinai. For a people on the brink of entering their promised land Deuteronomy confirmed God's gracious promises as they prepared for new horizons and adventures.
Allan Harman shows the covenant structure of Deuteronomy throughout its 5 key sections:
Historical Introduction (1:1 to 4:49)
The Foundation of the Covenant Relationship (5:1 to 5:31)
The Exposition of Ten Commandments (6:1 to 26:15)
The Re-affirmation of the Covenant (27:1 to 30:20)
The Continuation of the Covenant (31:1 to 34:12)
About The Author
Allan Harman has recently retired from the posts of Principal and Professor of Old Testament at the Presbyterian Theological College in Melbourne Australia. He has taught graduate courses at Ontario Theological Seminary, Toronto and Reformed Theological Seminary, Jackson, Mississippi. Allan has also written a critically acclaimed Focus on the Bible commentary on Isaiah.
Endorsements
He keeps the connectedness of the text before us and yet can dash off to capture a Hebrew participle or suffix, pilfer a bit of Near Eastern background, or serve up the succinct result of a word study - all to light up a passage.