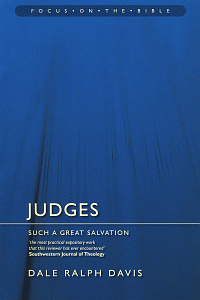 Focus on the Bible: Judges
Such a Great Salvation
Product Details
The Church has a problem with Judges; it is so earthy, puzzling, primitive and violent - so much so that the Church can barely stomach it. To many it falls under the category of embarrassing scripture. Such an attitude is, of course, wrong - so Ralph Davis here makes Judges digestible by analysing the major literary and theological themes discovered in each section. He provides a theocentric exposition that rings with practical relevance
About the Author
Dale Ralph Davis is pastor of Woodland Presbyterian Church, Hattiesburg, Mississippi. Previously he was Professor of Old Testament at Reformed Theological Seminary. He has also written in this series on Joshua, 1st Kings, 2nd Kings, 1st Samuel, and 2nd Samuel.
Endorsements
An excellent...crisp, lively...exposition on Judges
The most practical expository work that this reviewer has ever encountered
Dr. Davis has a great sense of fun. He must often have his class or his congregation in stitches
One of the great advantages of this commentary on Judges is that we never lose sight of the wood for the trees. Hebrew word studies enrich the reader's mind. Geographical allusions enliven the plot. Homely illustrations from the author's personal background make for easy reading. A refreshing sense of humor brings an understanding smile and helps us grasp the point.