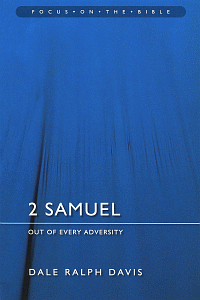 Focus on the Bible: 2 Samuel
Out of Every Adversity
Product Details
Davis brings cultural and historical colour to the task of interpreting one of the most studied parts of the Bible. The lessons in 2 Samuel from the life of Israel, and David in particular, have obvious modern parallels. Davis writes with a pastor's heart AND the incisive brain of a respected theologian specialising in the Old Testament texts.
About the Author
Dale Ralph Davis is pastor of Woodland Presbyterian Church, Hattiesburg, Mississippi. Previously he was Professor of Old Testament at Reformed Theological Seminary. He has also written in this series on Joshua, Judges, 1st Kings, 2nd Kings, and 1st Samuel.
Endorsements
Enthusiasm for these commentaries is absolutely right. No preacher should be without them. No thoughtful Christian can fail to be excited and edified by them.
Dr. Davis has a great sense of fun. He must often have his class or his congregation in stitches.
Gripping, fascinating and searching. The scope and depth of his personal study are impressive. The author is fresh, lively and readable.