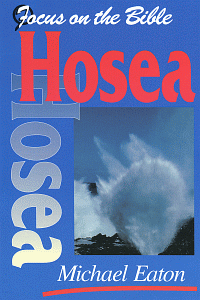 Focus on the Bible: Hosea
Product Details
The breakdown of family values is having a devastating effect on modern society. Older people are no longer respected by the young, lawlessness abounds, everyone does what they like, corruption lingers in the halls of politicians, and leaders of the church are out of touch, out of mind, and out to lunch.
This scenario is not taken from last weeks' tabloid newspapers but from the troubled times of the prophet Hosea in the 8th century BC. Despite the apparent bleakness, Hosea's prophecy is a book of hope. Viewed through the picture-window of his own disastrous marriage, Hosea shows that God's constant love and perfect judgement restores relationship between Him and his people.
About the Author
Michael Eaton is the pastor of Christo Church in Nairobi, Kenya. He has written many other books including the Focus on the Bible Commentary on 1st, 2nd, and 3rd John.