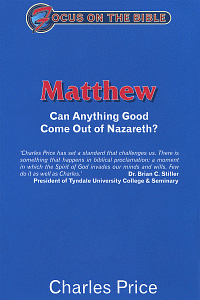 Focus on the Bible: Matthew
Can Anything Good Come Out of Nazareth?
Product Details
Jesus is the Messiah! Matthew's Gospel was written to show that Jesus is the Messiah foretold in the Old Testament. It is carefully arranged by subject matter as a clear explanation to the Jewish people, and to the world, of who Jesus really is.
Here you will meet Jesus the Great Teacher (chapters 5-7, the Sermon on the Mount), the Storyteller (chapter 13), the Prophet (chapter 24), the Atoning Sacrifice and much, much more. See Jesus through the eyes and ears of Matthew.
About the Author
Charles Price has been the Senior Pastor of The Peoples Church, Toronto since September 2001. For twenty-five years prior to this he was on the staff of the Capernwray Missionary Fellowship of Torchbearers in England, latterly as Principal of Capernwray Bible School. During that period he was also involved in an extensive Conference and Evangelistic ministry in many parts of the world, including Western and Eastern Europe, Africa, India, the Far East, the Middle East, the Caribbean, in Australia and New Zealand, and from Coast to Coast in the USA and Canada.