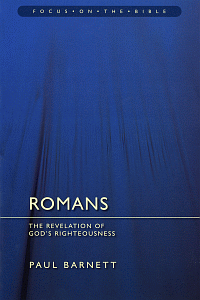 Focus on the Bible: Romans
The Revelation of God's Righteousness
Product Details
Dale Leschert has written, "Paul's epistle to the Romans may possibly be the most influential letter ever written. Apart from its immediate impact upon the first century, it has indirectly altered the direction of the church and secular history through its instrumentality in the conversion of several of Christianity's most outstanding leaders." Augustine, Luther and Wesley are amongst those who relate their trust in Christ to this book. Romans is all about the revelation of God's righteousness in freely offering salvation to all people through faith. Written about AD 56 or 57 in Corinth, whilst he was on his way to Jerusalem, Romans historically fits into the book of Acts near the end of Paul's third missionary journey.
This commentary is presented in a readable, reliable and relevant way.
About the Author
Paul Barnett is retired Bishop of North Sydney, visiting fellow in history at Macquarie University, senior fellow in the Ancient History Documentary Research Centre, Macquarie University, teaching fellow at Regent College, Vancouver and faculty member at Moore Theological College Sydney. Previously, he served as head of Robert Menzies College, Macquarie University. He is also the author of the Focus on the Bible Commentary on 1st Corinthians.
Endorsements
Paul Barnett's refreshing commentary on the Letter to the Romans is marked by warmth, clarity, careful exegesis of the text, and a fine grasp of the historical circumstances surrounding this letter. Throughout his exposition, Dr. Barnett sensitively applies the apostle's profound, yet much-needed, message to our own context. I warmly commnend this clear exposition of the apostle Paul's gospel.
Distinguished New Testament historian and pastor, Bishop Paul Barnett, has given us a clearly written commentary on Romans which, while critically conversant with the present debate over the new perspective, is clear and accessible to preachers and Bible teachers.