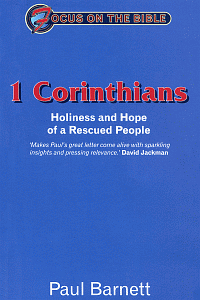 Focus on the Bible: 1 Corinthians
Holiness and Hope of a Rescued People
Product Details
First Corinthians is Paul's masterly pastoral letter to a church he had founded five years earlier, but which in the meantime had lost its way. In Ephesus, Paul was visited by various groups from Corinth bringing disturbing reports of recent developments, but also a list of questions. A little sleuthing helps us recover an idea of the problems in Corinth as well as the questions to which they wanted answers. A less imaginative person may have simply addressed the problems and replied to the questions, but not Paul. Paul discerned in the problems and the questions five underlying issues.
He has arranged his letter as a series of sermons - True Wisdom (1-4), Sexual Holiness (5-7), Temple Attendance (8-10), Behavior at Church Meetings (11-14), Resurrection Hope (15). This letter is both timely and timeless. It was, doubtless, piercingly relevant for the Corinthians as they sat transfixed listening as it was read to them. But the letter continues to challenge readers today as they apply its principles to life in an increasingly unstable and hostile world - as Corinth was.
About the Author
Paul Barnett is retired Bishop of North Sydney, visiting fellow in history at Macquarie University, senior fellow in the Ancient History Documentary Research Centre, Macquarie University, teaching fellow at Regent College, Vancouver and faculty member at Moore Theological College Sydney. Previously, he served as head of Robert Menzies College, Macquarie University. He is also the author of the Focus on the Bible Commentary on Romans.
Endorsements
A scholar's eye for background detail, a preacher's careful attention to meaning, a pastor's application to the challenges of our contemporary context. All three combine in this clear-minded and warm-hearted exposition of 1st Corinthians to make Paul's great letter come alive with sparkling insights and pressing relevance.