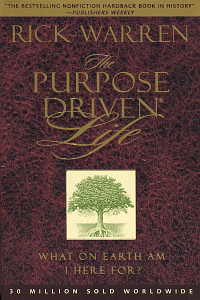 Product Details
YOU ARE NOT AN ACCIDENT! Even before the universe was created, God had you in mind, and he planned you for his purposes. These purposes will extend far beyond the few years you will spend on earth. You were made to last forever!
Self-help books often suggest that you try to discover the meaning and purpose of your life by looking within yourself, but Rick Warren says that is the wrong place to start. You must begin with God, your Creator, and his reasons for creating you. You were made by God and for God, and until you understand that, life will never make sense.
This book will help you understand why you are alive and God's amazing plan for you - both here and now, and for eternity. Rick Warren will guide you through a personal 40-day spiritual journey that will transform your answer to life's most important question: What on earth am I here for?
Knowing God's purposes for creating you will reduce your stress, focus your energy, simplify your decisions, give meaning to your life, and, most importantly, prepare you for eternity.
The Purpose Driven® Life has transformed millions of lives around the world. It is a blueprint for living in the 21st century, using the time-tested wisdom of the Bible. It is a book of both hope and challenge that you'll read and re-read. It is already a classic in inspirational literature.
About the Author
Dr. Rick Warren is passionate about attacking what he calls the five "Global Goliaths" – spiritual emptiness, egocentric leadership, extreme poverty, pandemic disease, and illiteracy/poor education. His goal is a second Reformation by restoring responsibility in people, credibility in churches, and civility in culture. He is a pastor, global strategist, theologian, and philanthropist. He's been often named "America's most influential spiritual leader" and "America's Pastor."
As a pastor, he founded Saddleback Church in Lake Forest, Calif., in 1980 with one family. Today, it is an evangelical congregation averaging 22,000 weekly attendees, a 120-acre campus, and has more than 300 community ministries to groups such as prisoners, CEOs, addicts, single parents, and those with HIV/AIDS. Recently, the church fed 42,000 homeless people – three meals a day – for 40 days.
He also leads the Purpose Driven Network of churches, a global coalition of congregations in 162 countries. More than 400,000 ministers and priests have been trained worldwide, and almost 157,000 church leaders subscribe to the Ministry ToolBox, his weekly newsletter. His previous book, The Purpose Driven Church is listed in "100 Christian Books That Changed the 20th Century." Forbes magazine called it "the best book on entrepreneurship, management, and leadership in print."
As a global strategist, Dr. Warren advises leaders in the public, private, and faith sectors on leadership development, poverty, health, education, and faith in culture. He has been invited to speak at the United Nations, the World Economic Forum in Davos, the African Union, the Council on Foreign Relations, Harvard's Kennedy School of Government, TIME's Global Health Summit, and numerous congresses around the world. TIME magazine named him one of "15 World Leaders Who Mattered Most in 2004" and in 2005 one of the "100 Most Influential People in the World." Also, in 2005 U.S. News & World Report named him one of "America's 25 Best Leaders."
As a theologian, Dr. Warren has lectured at Oxford, Cambridge, the University of Judaism, the Evangelical Theological Society, and numerous seminaries and universities. His six books are known for explaining theology in understandable ways and have been translated into more than 50 languages. Dr. Warren says he teaches theology without using theological terms and telling people it is theology. His latest book, The Purpose Driven Life, has sold 25 million copies and is the best-selling hardback book in American history, according to Publisher's Weekly.
As philanthropists, Rick and Kay Warren give away 90 percent of their income through three foundations: Acts of Mercy, which serves those infected and affected by AIDS; Equipping the Church, which trains church leaders in developing countries; and The Global PEACE Fund, which fights poverty, disease, and illiteracy.
Endorsements
Movie stars and political leaders aren't the only ones turning to Rick Warren for spiritual guidance. Millions of people - from NBA and LPGA players to corporate executives to high school students to prison inmates - meet regularly to discuss The Purpose Driven® Life.
The Purpose Driven® Life turns the thesis of the typical self-help tome straight on its head. The premise - that true purpose in life is found not in self-absorption but through faith in action - rings true.... Warren's message is unassailable. It accomplishes a great deal by urging us to turn our focus above rather than within.
The Purpose Driven® Life is the epicenter of a spiritual shockwave taking root across America in unlikely places like offices and college campuses. It is more than a book; it has become a movement.
Rick Warren has a knack for giving people a sense of purpose when life can seem materialistic and meaningless.
This is no ordinary self-help book. Readers delving into this phenomenally successful bestseller find advice steeped in the Bible but written with a psychological acuity that speak to believers and non-believers alike.
This book is absolutely life-changing, soul reflecting phenomenal! I mean, utterly fantastic and life-transforming. I kid you not.
It make you think about your life every day in the light of your values. It's very practical. I underlined it and wrote notes in the margins and put stars all over it.