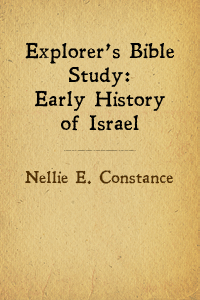 Explorer's Bible Study: Early History of Israel
Product Details
Explorer's Bible Studies are daily bible studies that include notes, Scripture references, advanced questions, historical background, outlines, applications and maps. Broken into different lessons, these studies are perfect for individual or group settings.
Early History of Israel starts with studying the book of Exodus and its importance. Following the life of Moses as he led the Israelites out of oppression, all the way through the inheritance of Canaan in the book of Joshua, this workbook studies the lessons the Israelites show us through their early history.
About the Author
Nellie E. Constance (1918-2009) was born in New Castle, Pennsylvania. She graduated from Nyack College in New York in 1939, and married Thomas M. Constance 1940. Thomas was the minister of Christian & Missionary Alliance Church, and Nellie, a lifetime member, served as minister's wife for 25 years. The couple opened, owned and managed Intermountain Bookstore, and also founded and directed Explorer's Bible Study.