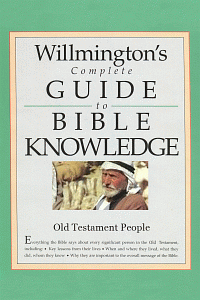 Willmington's Complete Guide to Bible Knowledge: OT People
Product Details
This Willmington's Guide is made up of lists and summaries of Old Testament characters not specifically mentioned by name, but by title or act.
Exciting features included in this book:
A CHRONOLOGICAL SUMMARY - Every mention of the name with Scripture reference and a summary of the significance of the event
A THEOLOGICAL SUMMARY - For the more important people, the theological issues raised by their lives, their teachings, and the Old Testament references to them
A STATISTICAL SUMMARY -

Father
Mother
Wife or husband
Sons and daughters
Brothers and sisters
Significant ancestors
Significant descendants
First mention of his or her name
Final mention of his or her name
Meaning of his or her name
Frequency of his or her name
Biblical books mentioning him or her
Occupation
Place of birth
Place of death
Circumstances of death
Important fact about his or her life
This book is a must for serious Bible students who need quick and concise answers about Old Testament characters.
About the Author
Dr. Harold L. Willmington attended Dallas Theological Seminary and Ashland Theological Seminary. He is a graduate of Moody Bible Institute, Culver-Stockton College, and Trinity Evangelical Divinity School. He served as a pastor for 17 years before going to Liberty University in 1972. He is the founder and dean of Willmington School of the Bible at Liberty University and of Liberty Home Bible Institute in Lynchburg, Virginia. Dr. Willmington also served as a visiting professor at the American Institute of Holy Land Studies in Jerusalem. He is the author of more than 15 books, including The King Is Coming and Willmington's Bible Handbook.