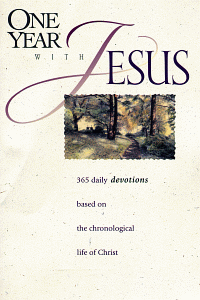 One Year with Jesus
365 Daily Devotions Based on the Chronological Life of Christ
Highlights
Daily Devotions
Chronological Harmony Gospel Comparisons
Life Application Notes
Interesting Background Information and Helpful Explanations
Product Details
The popular One Year with Jesus is now available in the New Living Translation. This volume presents the life of Christ in chronological order and is great for anyone who wants to grow closer to Christ and learn more about his life.
The readings for each day are arranged according to the Harmony of the Gospels found in the back of the book. A harmony is a useful tool for studying the life of Christ. It simply arranges the events in the four Gospels in chronological order and makes it easier for you to compare parallel accounts.
You can go day by day, jump around or easily read it cover-to-cover. The structure is there to help but not to confine you in reaching your goal of growing closer to Jesus.