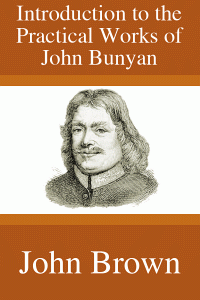 Introduction to the Practical Works of John Bunyan
Product Details
John Brown magnanimously praises John Bunyan as an author, pastor and servant to the cause of Christ. Each volume in this work sets the stage for the practicality and wisdom John Bunyan sought to convey to a public in need of the saving grace of God.
Chapter titles include:
VOLUME 1. Awakening
VOLUME 2. Inviting
VOLUME 3. Devotional
VOLUME 4. Directing
VOLUME 5. Searching
VOLUME 6. Consoling
VOLUME 7. Doctrinal
VOLUME 8. Experimental
About the Author
Reverend John Brown of Bedford, England was born 1830 and died in 1922. He lived in John Bunyan's home town pastoring in Bunyan's Chapel and working as a church historian and theologian.
He authored an important John Bunyan biography subtitled His Life, Times and Work, and is also credited writing The History of The English Bible, Puritan Preaching in England: A Study of Past and Present, and The Pilgrim Fathers of New England and Their Puritan Successors.
Reverend Brown and his wife, Ada Haydon Ford (1837–1929), had two children, which included the physician Walter Langdon-Brown, and Florence Ada who strove to end poverty and later became the mayor of Cambridge, England. Their grandson is John Maynard Keynes a renowned British economist whose ideas greatly influenced modern macroeconomics.