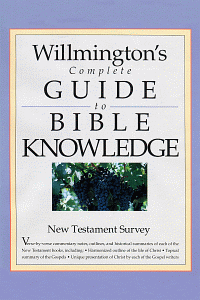 Willmington's Complete Guide to Bible Knowledge: NT Survey
Product Details
From Matthew to Revelation, an easy-to-read guide for all the books of the New Testament, giving author information and historical background on each book.
Exciting features included in this book:
A harmonized outline of the life of Christ, including all the miracles performed by Christ, all the parables, all the sermons he preached, and all the prayers he uttered
The specifics concerning Christ's suffering and death
The prophecies fulfilled by Christ's coming
Clear outline format, arranged alliteratively for easy sermon preparation
Verse-by-verse explanations of New Testament books with a summary of each author's life and the most important verses in each book
Special commentary on all important verses
This book is a must-have for serious Bible students who need quick and concise answers about the New Testament.
About the Author
Dr. Harold L. Willmington attended Dallas Theological Seminary and Ashland Theological Seminary. He is a graduate of Moody Bible Institute, Culver-Stockton College, and Trinity Evangelical Divinity School. He served as a pastor for 17 years before going to Liberty University in 1972. He is the founder and dean of Willmington School of the Bible at Liberty University and of Liberty Home Bible Institute in Lynchburg, Virginia. Dr. Willmington also served as a visiting professor at the American Institute of Holy Land Studies in Jerusalem. He is the author of more than 15 books, including The King Is Coming and Willmington's Bible Handbook.