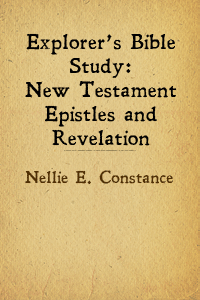 Explorer's Bible Study: New Testament Epistles & Revelation
Product Details
Explorer's Bible Studies are daily bible studies that include notes, Scripture references, advanced questions, historical background, outlines, applications and maps. Broken into different lessons, these studies are perfect for individual or group settings.
New Testament Epistles & Revelation provides detailed studies from the New Testament Epistles and the book of Revelation on topics like
The Christian Challenge in Giving, Discernment and Discipleship
Discipline of God's House and People
Paul Deals with Disorders and Difficulties in the Church
Setting God's House and People in Order
About the Author
Nellie E. Constance (1918-2009) was born in New Castle, Pennsylvania. She graduated from Nyack College in New York in 1939, and married Thomas M. Constance 1940. Thomas was the minister of Christian & Missionary Alliance Church, and Nellie, a lifetime member, served as minister's wife for 25 years. The couple opened, owned and managed Intermountain Bookstore, and also founded and directed Explorer's Bible Study.
*Please note that certain features in this book require the use of Wordsearch 10 or QuickVerse 10.