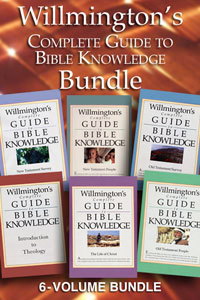 Willmington's Complete Guide to Bible Knowledge Bundle
6 Volume Set
Product Details
If a single word could describe renowned Bible scholar Dr. Harold Willmington, it would be "complete." Everything he does results in complete understanding that brings you closer to God. The Willmington's Complete Guide to Bible Knowledge Bundle includes 6 volumes of well-organized content, crisp outlines, commentary, alliteration, and illustrations that are designed for teaching and preaching. Included are a New Testament Survey, Old Testament Survey, books on New & Old Testament people, an introduction to Theology and a volume on the life of Christ.
Willmington's Complete Guide to Bible Knowledge
Dr. Willmington carefully breaks down each book of the Bible with his New Testament Survey and Old Testament Survey. He explains how each book is organized, who wrote it, and what it means to you today. You'll be surprised how Willmington highlights truths, treasures, and patterns that are often overlooked.
Willmington's books on New Testament People and Old Testament People take you deeply into the history and personalities of each Bible character. Wordsearch makes it fast and easy to reference Willmington's insights into people of the Bible, even when you're studying from other commentaries and reference tools.
In his Introduction to Theology volume, Willmington shows you how true Bible doctrine "divides light from darkness, right from wrong, and life from death." Included are doctrines involving: the Trinity, the Bible, the Father, Christ, the Holy Spirit, Man, Satan, Angels, Sin, Salvation, the Church, Prophecy, and more.
Willmington's Life of Christ volume is the first significant work on the life of Christ to be published in years. Willmington details the life of Christ both chronologically and topically, covering Jesus' birth, baptism, temptation, transfiguration, miracles, parables, sermons, prayers, and much more.
Check out a sample by clicking on the yellow sample box underneath the book cover image. Learn more about each volume and see more samples by clicking on their book cover images below.
About the Author
Dr. Harold L. Willmington attended Dallas Theological Seminary and Ashland Theological Seminary. He is a graduate of Moody Bible Institute, Culver-Stockton College, and Trinity Evangelical Divinity School. He served as a pastor for 17 years before going to Liberty University in 1972. He is the founder and dean of Willmington School of the Bible at Liberty University and of Liberty Home Bible Institute in Lynchburg, Virginia. Dr. Willmington also served as a visiting professor at the American Institute of Holy Land Studies in Jerusalem. He is the author of more than 15 books, including The King Is Coming and Willmington's Bible Handbook.