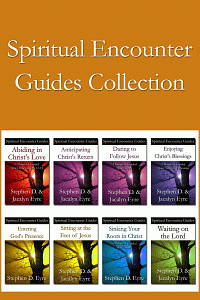 Spiritual Encounter Guides Collection
Includes 8 Volumes
Product Details
The Spiritual Encounter Guides are designed to gently guide you through daily devotional and study times which will help you find intimacy with God. You'll have time to reflect on your own life and space to record your thoughts and ideas. And you'll learn to listen to God's voice.
This is a fresh approach to personal devotion that you will enjoy and benefit from whether you're new in Christ or have been a Christian for many years.
This collection includes the following volumes:
Abiding in Christ's Love
Entering God's Presence
Sinking Your Roots in Christ
Waiting on the Lord
Enjoying Christ's Blessing
Anticipating Christ's Return
Daring to Follow Jesus
Sitting at the Feet of Jesus
About the Author
Stephen D. Eyre has worked with InterVarsity Christian Fellowship of the U.S.A. for many years, most recently with American students studying in London, England. He is the author of Defeating the Dragons of the World, Quiet Time Dynamics and the LifeGuide® Bible Studies Christian Beliefs and Matthew.
Products Included In This Bundle