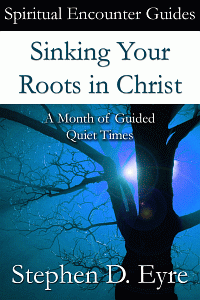 Spiritual Encounter Guides: Sinking Your Roots in Christ
A Month of Guided Quiet Times
Product Details
Sometimes being a Christian is tough. There are difficult choices to make. Maturity doesn't come easily.
We have help, however. In Christ we have everything we need to live as God intended us to. In addition we find support from other Christians and in scripture.
These quiet times will take you through the book of Colossians and show you how to find your grounding in Christ. Each day the author helps you to approach God, mediate on Scripture and pray.
About the Spiritual Encounter Guides Series
In these Bible studies the authors will gently guide you through daily devotional and study times which will help you find intimacy with God. You'll have time to reflect on your own life and space to record your thoughts and ideas. And you'll learn to listen to God's voice.
This is a fresh approach to personal devotion that you will enjoy and benefit from whether you're new in Christ or have been a Christian for many years.
About the Author
Stephen D. Eyre has worked with InterVarsity Christian Fellowship of the U.S.A. for many years, most recently with American students studying in London, England. He is the author of Defeating the Dragons of the World, Quiet Time Dynamics and the LifeGuide® Bible Studies Christian Beliefs and Matthew.