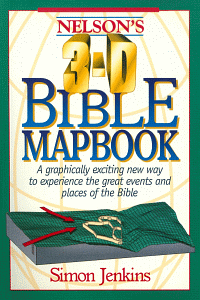 Nelson's 3-D Bible Mapbook
Product Details
The Bible is a book about real life. It tells us about a God who transcends our world, but who is also actively involved in it. This is why the Bible can point us to God by telling stories about what actually happened.
This book aims to act as a guided tour by concentrating on a single event or idea per map in order to bring to life the significance and excitement of certain biblical stories.
Apart from the maps, the book also uses graphics generated by computer to give an accurate idea of the climbs and descents involved in some of the biblical accounts. These give an on-the-ground guide to journeys and battles that would be literally flat on an ordinary map.
The maps have been designed to be used alongside a Bible. Bible passages are referred to in the text for each map, helping us to get over the bumps and around the corners of the story. The book proceeds in biblical book order and each chapter starts with an introduction to the period and details of the maps for the chapter.