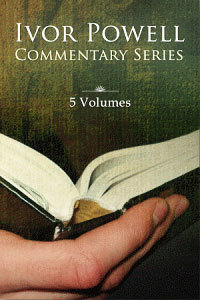 Ivor Powell Commentary Series
5 Volumes
Product Details
When Ivor Powell preaches or writes, you can visualize everything he says in your mind. Known for "pictorial preaching," Ivor Powell wrote five volumes of commentary that are now all included in the Ivor Powell Commentary Series.
Setting out to write a commentary from a different perspective, Powell wrote his commentaries like he was telling a story from a perspective you hadn't considered before. Instead of dissecting the scriptures in a technical way, Powell's commentaries feel like listening to the wisdom of a studied elder theologian who has considered each passage deeply. And Powell has. He spent 35 years writing the commentary on the gospel of John.
Written in a warm, easy-to-read style, Powell begins each book with a beautifully written introduction. For example, Powell's introduction to the book of John asks us to consider how John must have felt when he read the other three gospels. Powell suggests it may have caused John to include many important stories Matthew, Mark, and Luke had omitted. He also reminds us that John's gospel was written by a close personal friend of Jesus, and this fourth gospel shows us how to develop a closer personal relationship with our Savior too.
Commentary sections are often followed by homilies that Powell describes as "destined to make sermon preparation an increasing delight." Powell's homilies provide valuable instruction, personal insight, and the added benefit of spiritual edification.
All throughout Powell's commentaries you'll find intelligent alliteration that was meant for others to use with sermons and lessons. John 13 tells the story of Jesus the washing His disciple's feet. Powell divides this section into 4 parts:
The Sublime Savior
The Stubborn Simon
The Startling Statement
The Sensible Surrender.
Here is his insight on John 3:16
A Great Gift - that he gave his only begotten Son,
A Great Opportunity - that whosoever believeth in him
A Great Deliverance - should not perish,
A Great Possession - but have everlasting life.
Download this compelling commentary today and you'll enrich your ministry.
About the Author
Known internationally as the "Man from Wales." Ivor Powell possesses a vivid imagination. Master of the art of pictorial preaching, he preached the Bible through films, recordings, books, and videos. He was ordained as a minister of the Baptist Union of Wales in 1934, and his ministry has taken him to all parts of the English-speaking world, and in 1971 Trinity College honored him with a D.D. degree.
Products Included In This Bundle