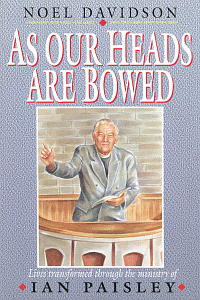 As Our Heads Are Bowed
Lives Transformed Through the Ministry of Ian Paisley
Product Details
When writing to some Christians, whom he greatly appreciated, in a place called Philippi, Paul said, "I thank my God upon every remembrance of you.&rdquo Why was he so thankful for these people? After all, it was whilst preaching in their town that he sustained a beating and spent a night in prison. It was in spite of all the difficulties, Paul saw many people there come to faith in Christ. These converts remained loyal to him and his ministry for many years. They were obviously as grateful for him as he was for them.
For over fifty years, Dr. Ian Paisley has been faithfully proclaiming the Gospel and has seen thousands of lives transformed. All of them have cause to praise God for him. It was because he came to the community where they lived and preached that they heard the Good News. Or, perhaps, they went along to his church out of curiosity, and hearing the Word of God, went home a new person.
As Our Heads Are Bowed contains a wide variety of gripping testimonies, as told to the author by the converts themselves. They come from all walks of life, revealing the reach of Ian Paisley's ministry.
About the Author
Ordained in 1946, Ian Paisley has maintained a steadfast Bible ministry on the Ravehill Road, Belfast, Northern Ireland, for 50 years. His name is synonymous throughout the world with the defense of the historic Christian faith as revealed in the Word of God.