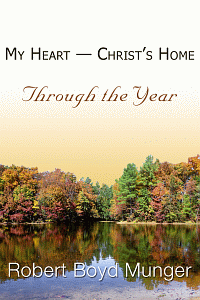 My Heart - Christ's Home Through the Year
Product Details
Here is a one-year guide through one of our most treasured books: Robert Boyd Munger's My Heart - Christ's Home. Contributors from across the landscape of evangelical Christianity show their appreciation for this timeless classic by reflecting on the "rooms" of our lives that daily we open to Jesus. You'll find devotions from:
Randy Alcorn
Bill Bright
Jill Briscoe
Stuart Briscoe
Charles W. Colson
Ken Fong
Ken Gire
Liz Curtis Higgs
Karen Mains
John Ortberg
Duffy Robbins
Joni Eareckson Tada
and many more
Each day you'll read a passage from Scripture and a brief thought about the process of giving yourself fully to Christ. An idea at the end of each day's reading will help you to respond to God in prayer, reflection and action.
With more than eleven million copies in print, My Heart - Christ's Home continues to inspire and encourage readers of all ages in their relationship with Jesus Christ. Its author, Robert Boyd Munger, served for many years as pastor of Hollywood Presbyterian Church and as professor at Fuller Theological Seminary (Pasadena, California) before his death in 2001.
This collection of devotionals was compiled and edited by David Zimmerman, associate editor at InterVarsity Press, and Cindy Bunch, senior editor at InterVarsity Press.