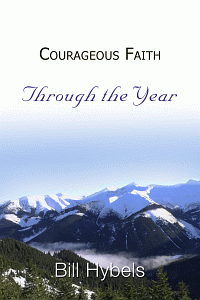 Courageous Faith Through the Year
Through the Year Devotionals
Highlights
312 Devotional Readings (6 Days per Week for One Year!)
Highlights Key Components of the Christian Life
Guidance for Knowing God
Based on Popular writings and Sermons by Bill Hybels
Product Details
Prayer. Character. Wisdom. These are key aspects of the Christian life. These are essential qualities God calls you to. And it is a worthy calling. But developing these qualities isn't a matter of working harder or working smarter. Rather, it's a matter of knowing God more deeply—discovering how he wants to work in and through you.
These devotions are drawn from Bill Hybels's writings and sermons such as Making Life Work, Finding God in the Storms of Life, Too Busy Not to Pray and Who You Are When No One's Looking. You'll find a year's worth of inspiration and guidance for knowing God and living out your faith day to day.
Are you ready to accept God's call to courageous faith?
About the Author
William Hybels was in born 1951, in Kalamazoo, Michigan. He has a bachelor's degree in Biblical Studies from Trinity International University, near Chicago, and an honorary Doctorate of Divinity from TIU's Trinity Evangelical Divinity School. He is founding and senior pastor of Willow Creek Community Church in South Barrington, Illinois, one of the most attended churches in North America, with an average attendance of 17,115 as of 2003. He is well-known for his relevant and insightful Bible-based teaching. Hybels is the author of seventeen books, including Rediscovering Church and Fit to Be Tied (both co-authored with his wife Lynne), Becoming a Contagious Christian (with Mark Mittelberg), and The God You're Looking For. He is chairman of the Willow Creek Association's board of directors. Hybels was named one of the Top 25 Most Influential Preachers by Christianity Today.