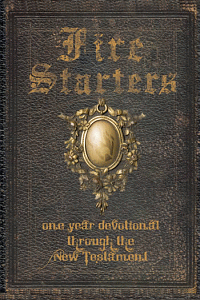 Fire Starters
One Year Devotional through the New Testament
Highlights
Daily New Testament Devotions
Teen-friendly
Product Details
Kindle godly passion in teens. Fire Starters is designed to help young people read and study through the New Testament in one year, regardless of when and where they start. Even if they don't follow the one-year track, they can still select the devotional that corresponds to whatever they are reading in the Bible on any given day. Fire Starters provide 10 to 20 minutes of daily study, including Bible reading.
Fire Starters
are also highly adaptable for small group leadership and study, directly linked to the notes and commentary in the
Fire Bible: Student Edition
(coming soon to Wordsearch). The wide array of questions in the RESPOND section provides enough interaction to fill most small group discussion times. Plus,
Fire Starters
can be used to facilitate family devotions. The family leader can start by referring to the THINK section. Sometimes this gives background information on the passage. Other times it may be an illustration that reminds family members of personal examples or opinions to share. Often, the first section contains thought-provoking questions that can spark discussion. No matter how you use it,
Fire Starters
will spark your teens' passion for God.