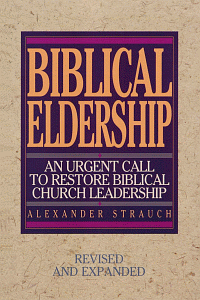 Product Details
It is not enough merely to have an eldership; the eldership must be actively functioning, competent, and spiritually alive.
With over 200,000 copies in print, this comprehensive look at the role and function of elders brings all the advantages of shared leadership into focus. Beginning with the four broad categories of eldership (leading, feeding, caring, and protecting), Biblical Eldership explores the essential work of elders, their qualifications (including why qualifications are necessary), their relationships with each other, and each of the biblical passages related to eldership. Written for those seeking a clear understanding of the mandate for biblical eldership, this full-length, expository book defines it accurately, practically, and according to Scripture.
About the Author
Alexander Strauch was raised in New Jersey and converted to Christ at a Bible camp in New York State. He received his undergraduate degree from Colorado Christian University and went on to earn his Master's in Divinity degree from Denver Seminary.
For over forty years he has served as an elder at Littleton Bible Chapel near Denver, Colorado. Additionally, he has taught philosophy and New Testament literature at Colorado Christian University. A gifted Bible teacher and popular speaker, Mr. Strauch has helped thousands of churches worldwide through his expository writing ministry.
He is the author of Biblical Eldership, The New Testament Deacon, Men and Women: Equal Yet Different, The Hospitality Commands, Agape Leadership (with Robert L. Peterson), Meetings That Work, Leading with Love, Love or Die: Christ's Wake-up Call to the Church and If You Bite and Devour One Another.
Endorsements
At last, a thorough biblical study on the basis of church government and especially the function and ministry of elders! New churches will find it a valuable guideline to effective functioning and older churches will find it a trustworthy corrective.
Our eldership has gone through Biblical Eldership and the guide book twice. It has been the finest investment of our time in the twelve years that I've been at the church. It has helped us see what we're all about and has gotten us to function the way God designed us to. Biblical Eldership is a fine work and a thorough Biblical exposition on eldership.
Strauch does an excellent job of defining, clarifying, and encouraging the New Testament model of leadership through the plurality of elders. I highly recommend this book for any pastor who is interested in the New Testament model of leadership...
I cannot say enough about Biblical Eldership by Alexander Strauch.... Helpful in so many ways, Strauch sets forth the definition of a leader, defends his position theologically and exegetically and also does a magnificent job of expositing texts that bolster his case.... Over the years, nothing has helped me better understand the role, mission, responsibilities, and qualifications of a biblical elder.