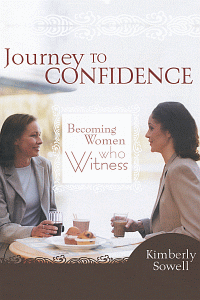 Journey to Confidence
Becoming Women Who Witness
Product Details
We know that people need Jesus. So what keeps us from sharing?
How many times have you said no to God when He nudged you to share? What is it the holds you back - fear of rejection? Fear of offending? Fear of not finding words to say? Journey to Confidence will help you to overcome these barriers.
God strategically places lost people in our paths that we may take part in His purpose of bringing them to salvation. Witnessing, then, is not so much an event as a lifestyle. Daily lessons in this six-week Bible study challenge women to pray for boldness, opportunities, and words of wisdom. Practical advice and thoughtful exercises will help you to overcome fears that may have kept you from sharing your faith.
Journey to Confidence will help you understand that when you speak of Christ, you are simply sharing what you have learned to be true. A living testimony, you are a firsthand witness to all that God has done in your life. Through this knowledge, He will guide you to overcome your fears. Let's journey toward confidence and become women who witness.
About the Author
Kimberly Sowell is president and founder of Women Who Witness Ministries, through which she trains and encourages women and Christian groups in adopting a lifestyle of personal evangelism. Formerly the women's evangelism field consultant for the South Carolina Baptist Convention, Kimberly led statewide denominational initiatives in training women to witness. She and her husband Kevin, along with their son and daughter, live in Lancaster, South Carolina.
Endorsements
A fresh approach to witnessing which makes it easy for today's Christian woman.
Evangelism resources are abundant; evangelism resources that actually help to encourage and equip followers of Christ to fulfill His Commission are rare. Kimberly has given you and me a wonderful, practical, and helpful book.
Kimberly Sowell has done the Kingdom of God on this earth a great service in writing this book to equip women even more to bear witness to the gift of salvation through Christ.