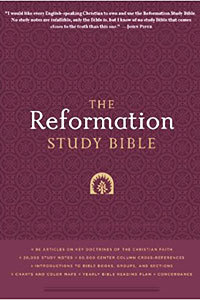 The Reformation Study Bible
Highlights
96 articles on key doctrines of the Christian faith
20,000 study notes
80,000 center column cross-references
Introductions to the different sections of the Bible
Introductions to the seven groups of biblical books
Introductions and outlines for each biblical book
Charts and color maps
Yearly Bible reading plan
Concordance
Product Details
More than 20,000 study notes, 96 theological articles, contributions from 50 evangelical scholars,19 in-text maps, and 12 charts combine to make this one essential study Bible.
The contributing scholars of The Reformation Study Bible have the highest academic credentials. Each is committed to the inerrancy of the Word of God and willingly submits to the authority of the Book they are trying to explain. The in-depth study notes included in The Reformation Study Bible were compiled from more than 50 distinguished biblical scholars, including Drs. J.I. Packer, James Boice, and Wayne Grudem. In addition, readers will appreciate book introductions, an extensive cross-reference system, plus illuminated words and terms within the Bible that are crucial to an in-depth understanding.
This unique study Bible was first published in 1995 as The New Geneva Study Bible in the New King James Version and was renamed The Reformation Study Bible in 1998. In March 2005 The Reformation Study Bible transitioned to the English Standard Version and has since sold more than 100,000 copies. However, the distinctive attribute of this Bible is not the Scripture translation itself, but in its extensive notes, charts, and cross-references, including more than one hundred sidebars on the core doctrines of the Christian faith.

Click on the "Sample" button to read a sample.
About the Author
Dr. Robert Charles Sproul was born in 1939 in Pittsburgh, Pennsylvania. He is the founder and chairman of Ligonier Ministries.
Dr. R.C. Sproul is featured daily on Renewing Your Mind, an international radio broadcast that has aired for more than ten years with an estimated two million people tuning in every week on more than 235 radio outlets in the United States and throughout more than 40 countries. Dr. Sproul is a respected teacher, theologian, and pastor. He is currently serving as the director of Serve International, and as senior minister of preaching and teaching at Saint Andrew's Chapel in Sanford, Florida. Dr. Sproul is ordained as a teaching elder in the Presbyterian Church in America.
As a prolific author he has written more than 60 books and scores of articles for national evangelical publications. Dr. Sproul has produced more than 300 lecture series and has recorded more than 80 video series on subjects such as the history of philosophy, theology, Bible study, apologetics, and Christian living.
Dr. Sproul holds degrees from Westminster College, Pittsburgh Theological Seminary, and the Free University of Amsterdam, and he has had a distinguished academic teaching career at various colleges and seminaries, including Reformed Theological Seminary in Orlando, Florida, and Jackson, Mississippi, and Knox Theological Seminary in Ft. Lauderdale, Florida.
Endorsements
I would like every English-speaking Christian to own and use the Reformation Study Bible. No study notes are infallible, only the Bible is, but I know of no study Bible that comes closer to the truth than this one.