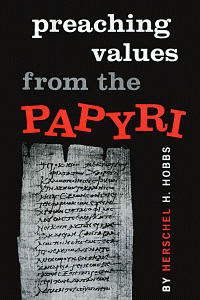 Preaching Values from the Papyri
Product Details
The extensive discovery and publication of papyri within the last half-century has had a continuing and growing significance for the study and interpretation of early Christianity and the Bible. Dr. Hobbs here presents a number of key Greek words, points out their usage in the New Testament, and the relation between the two. Any student of Scripture will see the value of this work in Bible study and sermon preparation.
Briefly stated, the purpose of this volume is to study a selected group of Greek words found in the New Testament. The procedure is to examine a word as it appears in the papyri and in the New Testament, seeking to point out any enrichment derived from the former with respect to the interpretation of the latter.
About the Author
The late Dr. Herschel Harold Hobbs was the first pastor of the First Baptist Church in Oklahoma City. He served two terms as the president of the Southern Baptist Convention and preached on the international Baptist Hour.