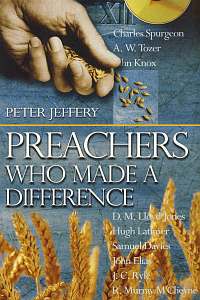 Preachers Who Made a Difference
Highlights
Preachers include: Charles Spurgeon, A.W. Tozer, John Knox, D.m> Lloyd Jones, Hugh Latimer, Samuel Davies, John Elias, J.C. Ryle, and R. Murray M'Cheyne.
Product Details
This well-presented book provides an insight into some of the most remarkable and influential preachers.
Preaching should confront men and women with God and eternity. In order to do this it has to be biblical. It has to tell people what God is saying in his Word. The preacher needs God with him in the pulpit. He not only preaches about God but he wants also to experience the presence of God with him as he preaches. If he does not he will cease to make a difference. He may continue to be popular and to a degree be useful, but he will not be making the difference that matters.
About the Author
Peter Jeffery began his ministry in Cwmbran, South Wales, before going to Rugby Evangelical Free Church in the English Midlands, where a time of remarkable growth was experienced. He then moved to Bethlehem Church in Sandfields, Port Talbot, South Wales. Although now retired, he continues to be in demand as a gospel preacher and is the author of numerous books and booklets, including All things new, Bitesize theology, Enjoying God always and Evangelicals then and now
Endorsements
Even if you are not a preacher, this is a book that will fire you up. It will introduce you to the lives of nine very different men who opened the Bible, preached Christ and saw people changed for ever. You will learn about their strengths, weaknesses and struggles. You will have a small taste of their sermons. You will come to understand what true preaching is and will long for its return today. Best of all, you will find that your heart has often been moved to pray to the only one who can raise up such preachers as these.