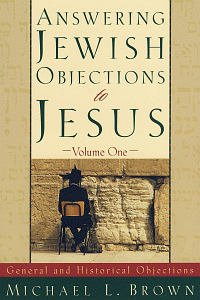 Answering Jewish Objections to Jesus, Volume 1
General and Historical Objections
Product Details
What kind of answers hold fast in Jewish Christian apologetics? Answers that are fair. Answers that are detailed. And above all, answers that respond to actual objections. In the first of five volumes of Answering Jewish Objections to Jesus, Michael Brown provides defensible answers. He addresses the same arguments that arise in his dialogue and debate with friends, rabbis, and anti-missionaries. Some objections include:
I was born a Jew and I will die a Jew.
I won't betray my ancestors.
If Jesus is the Jewish Messiah, why isn't there peace on earth?
Christians have always hated and persecuted the Jewish people!
Brown knows all about such objections. At age sixteen, he discovered Jesus was the Jewish Messiah, and it changed his life. Called to defend his new faith, Brown went on to master Hebrew, earning his Ph.D. in Semitic languages. In the past decades he has established himself as a leading Jewish Christian apologist.
Brown brings together his learning and his love for his people to answer thirty-five commonly heard objections. He provides believers and seekers alike with honest, spiritually focused answers, thoroughly documented with notes.
About the Author
Michael L. Brown is a Jewish believer in Jesus and has a Ph.D. in Near Eastern Languages and Literatures from New York University. He is the president of the FIRE School of Ministry in Concord, North Carolina and has served as a visiting professor at Trinity Evangelical Divinity School and Fuller Theological Seminary. He has written over fifteen books and is a contributor to the Oxford Dictionary of Jewish Religion.
Endorsements
Michael Brown's thinking is incisive and to the point. His ability to explain so that anyone can understand is amazing. He will surely be acclaimed as the new expert in Jewish Christian apologetics. I would be happy to recommend his much needed book to anyone.
We desperately need this book!
Michael Brown's work in the area of Jewish apologetics is the most thorough and penetrating I have seen. There is no doubt in my mind that this work will make a major contribution to the ongoing discussion and will, in fact, set the standard in the field.
Michael Brown excels as a true scholar as well as an apologist; his answers to objections are carefully thought out, honest, and well-researched. His work provides a useful model for how to do apologetics, not only in dialogue with the traditional Jewish community but for all who are interested in articulating and defending the Christian faith.