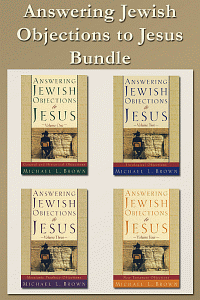 Answering Jewish Objections to Jesus Bundle
Volumes 1-4
Product Details
Answering Jewish Objections to Jesus is a four-volume series that considers the following:
General and Historical Objections
Theological Objections
Messianic Prophecy Objections
New Testament Objections
This set is an invaluable resource for seekers and for anyone wanting to point students of the Torah to Jesus.
About the Author
Michael L. Brown is a Jewish believer in Jesus and has a Ph.D. in Near Eastern Languages and Literature from New York University. He is the president of Brownsville Revival School of Ministry in Pensacola, Florida and has served as a visiting professor at Trinity Evangelical Divinity School and Fuller Theological Seminary. He has written over ten books and is a contributor to the Oxford Dictionary of Jewish Religion.
Endorsements
Michael Brown's thinking is incisive and to the point. His ability to explain so that anyone can understand is amazing. He will surely be acclaimed as the new expert in Jewish Christian apologetics. I would be happy to recommend his much needed book to anyone.
We desperately need this book!
Michael Brown's work in the area of Jewish apologetics is the most thorough and penetrating I have seen. There is no doubt in my mind that this work will make a major contribution to the ongoing discussion and will, in fact, set the standard in the field.
Michael Brown excels as a true scholar as well as an apologist; his answers to objections are carefully thought out, honest, and well-researched. His work provides a useful model for how to do apologetics, not only in dialogue with the traditional Jewish community but for all who are interested in articulating and defending the Christian faith.
Products Included In This Bundle