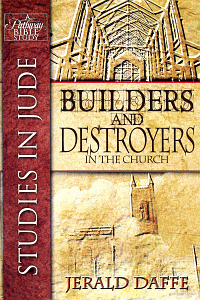 Builders and Destroyers in the Church
Studies in Jude
Product Details
Throughout its history, the church has been invaded from time to time by smooth-talking individuals who use a perversion of the gospel of grace to excuse evil conduct that ultimately damages the church. On the other hand, the church has been blessed with men and women who effectively combat false teachers. These destroyers and builders are the focus of the Book of Jude.
This Bible study provides a unique opportunity to study the book written to the first-century church by Jude, the brother of Jesus. The problems and principles he wrote to the growing and developing church apply to us in the 21st century. Though short in length, the content of Jude provides comfort, identifies problems, and offers solutions.
About the Author
Dr. Jerald Daffe, professor of Pastoral Ministry at Lee University, has spent over 30 years teaching at the college and university level, along with pastoral experience. His specialty areas of study are worship, revival, and church history. He has received awards both at Northwest Bible College and Lee University for excellence in the classroom. Dr. Daffe and his wife, Phyllis, live in Cleveland, Tennessee.