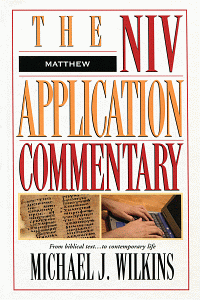 The NIV Application Commentary: Matthew
Product Details
The importance of the Gospel of Matthew in church history cannot be overstated. For Jewish readers, it affirmed the Messiahship of Jesus, referring constantly to the Scriptures to establish his credentials. For Gentile disciples, it provided powerful and dramatic support of their inclusion in God's kingdom. The cross of Christ had removed the division between Jew and non-Jew, and throug Matthew's writings, we see Israel's God drawing the entire world to himself through Jesus.
The Gospel according to Matthew... was the most widely read and frequently used of any of the four Gospels in the formative years of the church, writes Michael Wilkins. In this volume of the NIV Application Commentary, Wilkins explains Matthew's broad appeal not only to his ancient readers, but also to us today. Exploring the links between the Bible and our own times, Wilkins shares perspectives on Matthew's Gospel that reveal its enduring relevance for our twenty-first-century lives.
About the NIV Application Commentary Series
Most Bible commentaries take us on a one-way trip from our world to the world of the Bible. But they leave us there, assuming that we can somehow make the return journey on our own. They focus on the original meaning of the passage but don't discuss its contemporary application. The information they offer is valuable - but the job is only half done!
The NIV Application Commentary Series helps bring both halves of the interpretive task together. This unique, award-winning series shows readers how to bring an ancient message into our present-day context. It explains not only what what the Bible meant but also how it speaks powerfully today.
About the Author
Michael J. Wilkins (PhD, Fuller Theological Seminary) is dean of the faculty and professor of New Testament language and literature at Talbot School of Theology, Biola University, and is the author and editor of several books, including, Jesus Under Fire.
Endorsements
This series promises to become an indispensable tool for every pastor and teacher who seeks to make the Bible's timeless message speak to this generation.