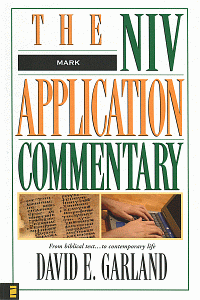 The NIV Application Commentary: Mark
Product Details
"Who do you say I am?" This was the key question for the disciples. And it was the key question for early Christians, who needed encouragement in the face of great persecution and tribulation. The answer is crystal clear as Mark launches his account of Jesus' ministry. "The beginning of the gospel about Jesus Christ, the Son of God". Indeed the gospel is about beginings: God beginning a new way of relating to his people; the beginning of a new understanding of God's purposes; the beginning of new life for those who bow to Christ.
We too need to understand more profoundly Jesus' identity so that we also may stand firm in the midst of obstables to our faith. And we need a renewed vision of the radical life of discipleship to which Jesus calls us. David Garland draws out these timeless truths as he connects the Bible and contemporary life.
About The NIV Application Commentary Series
Most Bible commentaries take us on a one-way trip from our world of the Bible. But they leave us there, assuming that we can somehow make the return journey on our own. The focus on the original meaning of the passage but don't discuss its contemporary application. The information they offer is valuable - but the job is only half done!
The NIV Application Commentary Series helps bring both halves of the interpretive task together. This unique, award-winning series shows readers how to bring an ancient message into our present-day context. It explains not only what the Bible meant but also how it speaks powerfully today.
About the Author
David E. Garland (PhD, Southern Baptist Theological Seminary) is William B. Hinson professor of Christian Scriptures and associate dean for academic affairs at George W. Truett Seminary, Baylor University.
Endorsements
This series promises to become an indispensable tool for every pastor and teacher who seeks to make the Bible's timeless message speak to this generation.