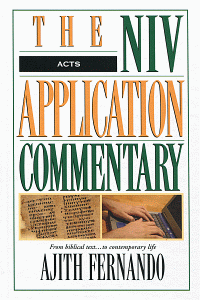 The NIV Application Commentary: Acts
Product Details
The very name "book of Acts" implies that Christianity is anything but passive. Making a quick and continuous connection between faith and action, the first century church grew from a handful of Jewish believers into a movement that, sweeping far beyond the confines of Judea, set the entire Roman Empire ablaze with faith
Faith and action: that inseparable link is a golden thread running through Acts, and it should weave though our own lives as well. While the world today is very different from what it was 2,000 years ago, one thing hasn't changed: God's heart for lost people. As long as he continues to act on their behalf, he will call us to play an integral part in his deeds. Acts lifts us up out of the armchair and spurs us to kingdom action, trusting that God will be with us as surely as he was with Peter, Paul, John, and the infant church.
Exploring the links between the Bible and our own lives, Ajith Fernando shares persperctives on the book of Acts that reveals its enduring relevance for our twenty-first-century lives.
About The NIV Application Commentary Series
Most Bible commentaries take us on a one-way trip from our world of the Bible. But they leave us there, assuming that we can somehow make the return journey on our own. The focus on the original meaning of the passage but don't discuss its contemporary application. The information they offer is valuable - but the job is only half done!
The NIV Application Commentary Series helps bring both halves of the interpretive task together. This unique, award-winning series shows readers how to bring an ancient message into our present-day context. It explains not only what the Bible meant but also how it speaks powerfully today.
About the Author
Ajith Fernando (ThM,DD) is national director of Youth for Christ in Sri Lanka and a Bible expositor with a worldwide ministry. He studied at Asbury Theological Seminary and Fuller Seminary and spends much time mentoring youth workers and counseling Christians workers. He is active in Colombo Theological Seminary as chairman of the academic affairs committee.
Endorsements
This series promises to become an indispensable tool for every pastor and teacher who seeks to make the Bible's timeless message speak to this generation.