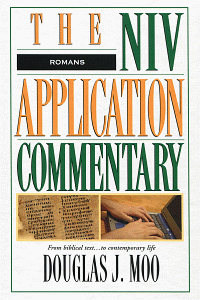 The NIV Application Commentary: Romans
Product Details
Pontius Pilate's question has found its echo in today's society: "What is truth?" For many, it's a negotiable item. But God doesn't change, and his character and purposes aren't subject to social whims. Living the gospel in our contemporary culture demands that we understand and internalize the truth about God and his plan for the world.
Paul's letter to the Romans remains one of the most important expressions of Christian truth written. Its message forces us to evaluate who we are, who God is, and what our place in this world ought to be. Revealing the links between Paul's time and our own, Douglas Moo helps us see how the eternal theology of Romans can be understood and lived out in our culture.
About the NIV Application Commentary Series
Most Bible commentaries take us on a one-way trip from our world to the world of the Bible. But they leave us there, assuming that we can somehow make the return journey on our own. They focus on the original meaning of the passage but don't discuss its contemporary application. The information they offer is valuable - but the job is only half done!
The NIV Application Commentary Series helps bring both halves of the interpretive task together. This unique, award-winning series shows readers how to bring an ancient message into our present-day context. It explains not only what what the Bible meant but also how it speaks powerfully today.
About the Author
Dr. Douglas J. Moo (PhD, University of Saint Andrews) is Blanchard Professor of New Testament at Wheaton Graduate School. He is a member of the Evangelical Theological Society, the Institute for Biblical Research, and Society of Biblical Literature. He has authored and coauthored numerous books including The NIV Application Commentary: 2 Peter, Jude and A Commentary on the Epistle to the Romans. He and his wife, Jenny, live in Illinois and have five children.
Endorsements
This series promises to become an indispensable tool for every pastor and teacher who seeks to make the Bible's timeless message speak to this generation.