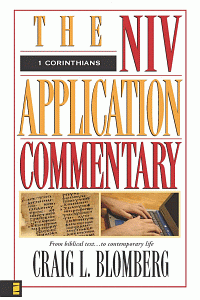 The NIV Application Commentary: 1 Corinthians
Product Details
About the NIV Application Commentary Series
Most Bible commentaries take us on a one-way trip from our world to the world of the Bible. But they leave us there, assuming that we can somehow make the return journey on our own. They focus on the original meaning of the passage but don't discuss its contemporary application. The information they offer is valuable - but the job is only half done!
The NIV Application Commentary Series helps bring both halves of the interpretive task together. This unique, award-winning series shows readers how to bring an ancient message into our present-day context. It explains not only what what the Bible meant but also how it speaks powerfully today.
About the Author
Dr. Blomberg completed his PhD in New Testament, specializing in the parables and the writings of Luke-Acts, at Aberdeen University in Scotland. He received an MA from Trinity Evangelical Divinity School, and a BA from Augustana College. He was an assistant professor of Religion at Palm Beach Atlantic College and took a leave of absence to accept a one-year research fellowship in Cambridge, England with the British wing of the InterVarsity Christian Fellowship.
In addition to writing numerous articles in professional journals, multi-author works and dictionaries or encyclopedias, he has authored or edited 15 books. Blomberg has written on a diverse range of issues including wealth and poverty, hermeneutics, and women in ministry. However, his academic work has tended to focus on the Historical Jesus and Gospels research.
Dr. Craig Blomberg joined the faculty of Denver Seminary in 1986. He is currently a distinguished professor of New Testament.
Endorsements
This series promises to become an indispensable tool for every pastor and teacher who seeks to make the Bible's timeless message speak to this generation.