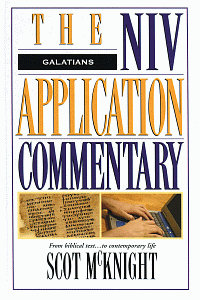 The NIV Application Commentary: Galatians
Product Details
Salvation by grace: we preach it, but do we live it? The reality is that too many Christians begin well but quickly gravitate towards jumping through religious hoops. What originated as simple, joyous, and liberating faith in Jesus somehow ends up in an exhausting attempts to "get it right". If Paul the apostle were to visit our churches today, chances are he would write the book of Galatians all over again.
In Galatians, Paul reminds us of the total sufficiency of Jesus in securing our salvation, and of the leadership of the Holy Spirit for living it out. To add to that pure, unencumbered gospel is in fact to subtract from it and nullify the life-giving, transforming power of grace. This is the message of Galatians. Calling us back to the simplicity of Christ, Galatians is as critically important for us today as it was when Paul first penned it.
Exploring the links between the Bible and our own lives, Scot McKnight shares perspectives on the letter to the Galatians that reveal its enduring relevance for our twenty-first century lives.
About the NIV Application Commentary Series
Most Bible commentaries take us on a one-way trip from our world to the world of the Bible. But they leave us there, assuming that we can somehow make the return journey on our own. They focus on the original meaning of the passage but don't discuss its contemporary application. The information they offer is valuable - but the job is only half done!
The NIV Application Commentary Series helps bring both halves of the interpretive task together. This unique, award-winning series shows readers how to bring an ancient message into our present-day context. It explains not only what what the Bible meant but also how it speaks powerfully today.
About the Author
Scot McKnight (PhD, Nottingham) is professor of biblical and theological studies and holds the Karl A. Olsson chair of religious studies at North Park University in Chicago, Illinois. He is an editor of Dictionary of Jesus and the Gospels, is general editor of Guides to New Testament Exegesis, and wrote Interpreting the Synoptic Gospels in that series. He is also the author of 1Peter in the NIV Application Commentary Series.
Endorsements
This series promises to become an indispensable tool for every pastor and teacher who seeks to make the Bible's timeless message speak to this generation.