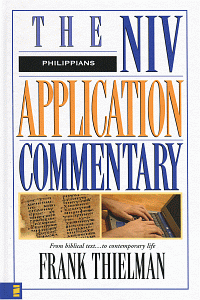 The NIV Application Commentary: Philippians
Product Details
Sprinkled with cherished and memorable verses, Paul's letter to the Phillipians is for many a favorite book of the Bible. Written from prison, it serves as Paul's missionary report and thank you to a faithful church, as well as a warm pastoral exhortation to make the advancement of the gospel their top priority. Paul models and calls for joy in the midst of suffering, warns against dangerous false teaching, and calls for Christian unity grounded in the example of the Lord Jesus.
In a day often marked by selfish ambition, spiritual laziness, disunity, and joyless living, Phillipians contains an eminently practical message for contemporary Christians. Exploring the links between the Bible and our own times, Frank Thielman skillfully draws out the timeless truths of this loving letter in a lucid and poweful way.
About the NIV Application Commentary Series
Most Bible commentaries take us on a one-way trip from our world to the world of the Bible. But they leave us there, assuming that we can somehow make the return journey on our own. They focus on the original meaning of the passage but don't discuss its contemporary application. The information they offer is valuable - but the job is only half done!
The NIV Application Commentary Series helps bring both halves of the interpretive task together. This unique, award-winning series shows readers how to bring an ancient message into our present-day context. It explains not only what what the Bible meant but also how it speaks powerfully today.
About the Author
Frank Thielman is Presbyterian professor of divinity at Beeson Divinity School Samford University, in Birmingham, Alabama, where he teaches New Testament and Greek. His other books include Theology of the New Testament: A Canonical and Synthetic Approach.
Endorsements
I have known Frank Thielman since childhood, and I have watched him emerge as one of the leaders of a new generation of biblical scholars who combine careful and dedicated scholarship with a commitment to the integrity of the Bible. Dr. Thielman's new volume on Philippians does exactly what a commentary should do: It provides insight into the meaning of the Bible's text for today. This series promises to become an indispensable tool for every pastor and teacher who seeks to make the Bible's timeless message speak to this generation.