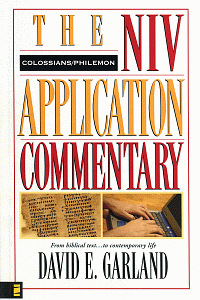 The NIV Application Commentary: Colossians and Philemon
Product Details
In a culture saturated with powerful and insistent messages, we too easily place our trust in the immediate rather than in Christ. The right education, the right career, the right partner - we put a lot of thought into "getting it right." That's not bad unless our faith begins and ends with our own efforts.
That was the lie that some in the church of Colosse had swallowed 2,000 years ago. Seduced by false teachers, they had shifted their focus from Jesus to a system of human goodness. The apostle Paul wasn't about to let this dangerous heresy go unchallenged.
Whether overseeing the affairs of the church at large or intervening in personal conflicts - as between Philemon and his servant, Onesimus - Paul points unflinchingly to Christ as our foundation for living. Trusting in Jesus is our sole provision for righteousness before God. Walking in his character is our model for relating righteously with each other.
Revealing the links between the books of Colossians and Philemon and our own times, David E. Garland shows how Paul's letters to first-century believers provide wisdom for living our twenty-first century lives.
About the NIV Application Commentary Series
Most Bible commentaries take us on a one-way trip from our world to the world of the Bible. But they leave us there, assuming that we can somehow make the return journey on our own. They focus on the original meaning of the passage but don't discuss its contemporary application. The information they offer is valuable - but the job is only half done!
The NIV Application Commentary Series helps bring both halves of the interpretive task together. This unique, award-winning series shows readers how to bring an ancient message into our present-day context. It explains not only what what the Bible meant but also how it speaks powerfully today.
About the Author
David E. Garland (PhD., Souththern Baptist Theological Seminary) is William B. Hinson professor of Christian Scriptures and associate dean for academic affairs at George W. Truett Seminary, Baylor University.
Endorsements
This series promises to become an indispensable tool for every pastor and teacher who seeks to make the Bible's timeless message speak to this generation.