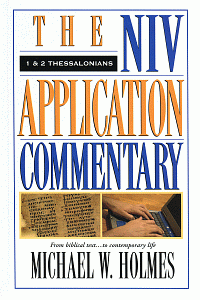 The NIV Application Commentary: 1 & 2 Thessalonians
Product Details
Warm and encouraging, Paul's letters to the church at Thessalonica shine a beacon of hope to believers facing both persecution and the pressures to conform to a hedonistic culture. As we all do occasionally, the Thessalonian Christians needed reassurance of their belief in the gospel and had questions concerning the future. While Paul doesn't address all the specifics of Christ's return, he address enough - that Christ will return for his people, and he will do so victoriously. These words of hope are accompanied by ethical instructions so that the Thessalonians may live lives pleasing to the Lord until he comes.
These pastoral messages have as much relevance today as they did when first written. Believers around the world face dire persecution, and the West is becoming increasingly hostile to Christian belief and lifestyle. Michael W. Holmes skillfully bridges the centuries in helping believers today understand and apply the urgent message of these books.
About the NIV Application Commentary Series
Most Bible commentaries take us on a one-way trip from our world to the world of the Bible. But they leave us there, assuming that we can somehow make the return journey on our own. They focus on the original meaning of the passage but don't discuss its contemporary application. The information they offer is valuable - but the job is only half done!
The NIV Application Commentary Series helps bring both halves of the interpretive task together. This unique, award-winning series shows readers how to bring an ancient message into our present-day context. It explains not only what what the Bible meant but also how it speaks powerfully today.
About the Author
Michael W. Holmes (Ph.D., Princeton Theological Seminary) is professor of biblical studies and early Christianity at Bethel College in St. Paul, Minnesota.
Endorsements
This series promises to become an indispensable tool for every pastor and teacher who seeks to make the Bible's timeless message speak to this generation.