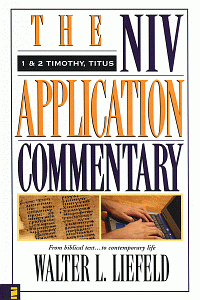 The NIV Application Commentary: 1 & 2 Timothy and Titus
Product Details
What are the traits to look for in a Christian leader? How do those qualities relate to the realities and concerns of life in the Christian community? In Paul's letters to Timothy and Titus, the apostle describes the earmarks of leaders in the church. Capable, godly leaders need to be sound in character which has been proved in life's everyday realities. They must promote the simple, powerful, and uncompromising central doctrimes concerning Jesus and salvation, and they must confront and correct teachings and practices that oppose those truths. Finally, leaders should be deeply relational - for the church is people bound together in love of Christ and of one another. Paul himself writes not only with the authority of his position, but at times with the deep emotion of a father for his children.
Skillfully bridging the centuries, Walter Liefeld connects past context to contemporary circumstances, helping readers to grasp the meaning and significance of Paul's letters and apply them to the concerns all of us face today.
About the NIV Application Commentary Series
Most Bible commentaries take us on a one-way trip from our world to the world of the Bible. But they leave us there, assuming that we can somehow make the return journey on our own. They focus on the original meaning of the passage but don't discuss its contemporary application. The information they offer is valuable - but the job is only half done!
The NIV Application Commentary Series helps bring both halves of the interpretive task together. This unique, award-winning series shows readers how to bring an ancient message into our present-day context. It explains not only what what the Bible meant but also how it speaks powerfully today.
About the Author
Walter L. Liefeld (PhD, Columbia and Union University) is distinguished professor emeritus of New Testament at Trinity Evangelical Divinity School and is the author of the Expositor's Bible Commentary on Luke, Interpreting the Book of Acts, New Testament Exposition, and the IVP New Testament Commentary on Ephesians.
Endorsements
This series promises to become an indispensable tool for every pastor and teacher who seeks to make the Bible's timeless message speak to this generation.